Euromast
flagpoles
High quality aluminium poles
- control variability
- high strength!
- certified material (SAPAgroup, Norway)
- modern aesthetic design
- easy transport and installation
Basic dimensions
Euromast also produces
non-traditional height poles.
Specifications
pole height:
number of segments:
diameter and wall thickness:
pole weight:
(no anchorage)
recommended flag:
(width x height in cm)
5 m
6 m
7 m
8 m
2
82,5 x 3,5 mm / 60 x 2,5 mm
9 kg
11 kg
13 kg
15 kg
100 x 250
100 x 300
120 x 350
120 x 400
pole body:
surface treatment:
pole colour:
pole models:
anchorage:
top pole element:
coloured poles:

optional accessories:
EN AW6005A cylindrical aluminium alloy with increased T6 tensile strength
anodic oxidation to combat weathering and greyness
natural elox aluminium colour
Standard / Eco / Exclusive / Banner
fixed (earth tube) / tilting (locking)
rotating silver ball
the pole body can be painted any colour on the RAL Colour Chart
using special Komaxit treatment (fired powder coating paint)
Mobile Banner - mobile arm for Eco or Exclusive flagpoles
Golden Onion - top element
White Mushroom - top element
Solar LED lighting - automatically illuminates the flag at night

Download

Euromast flagpoles (PDF)
Beware of cheap,
thin poles!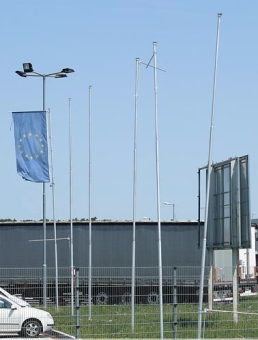 Choose the golden middle way.
Choose Euromast.